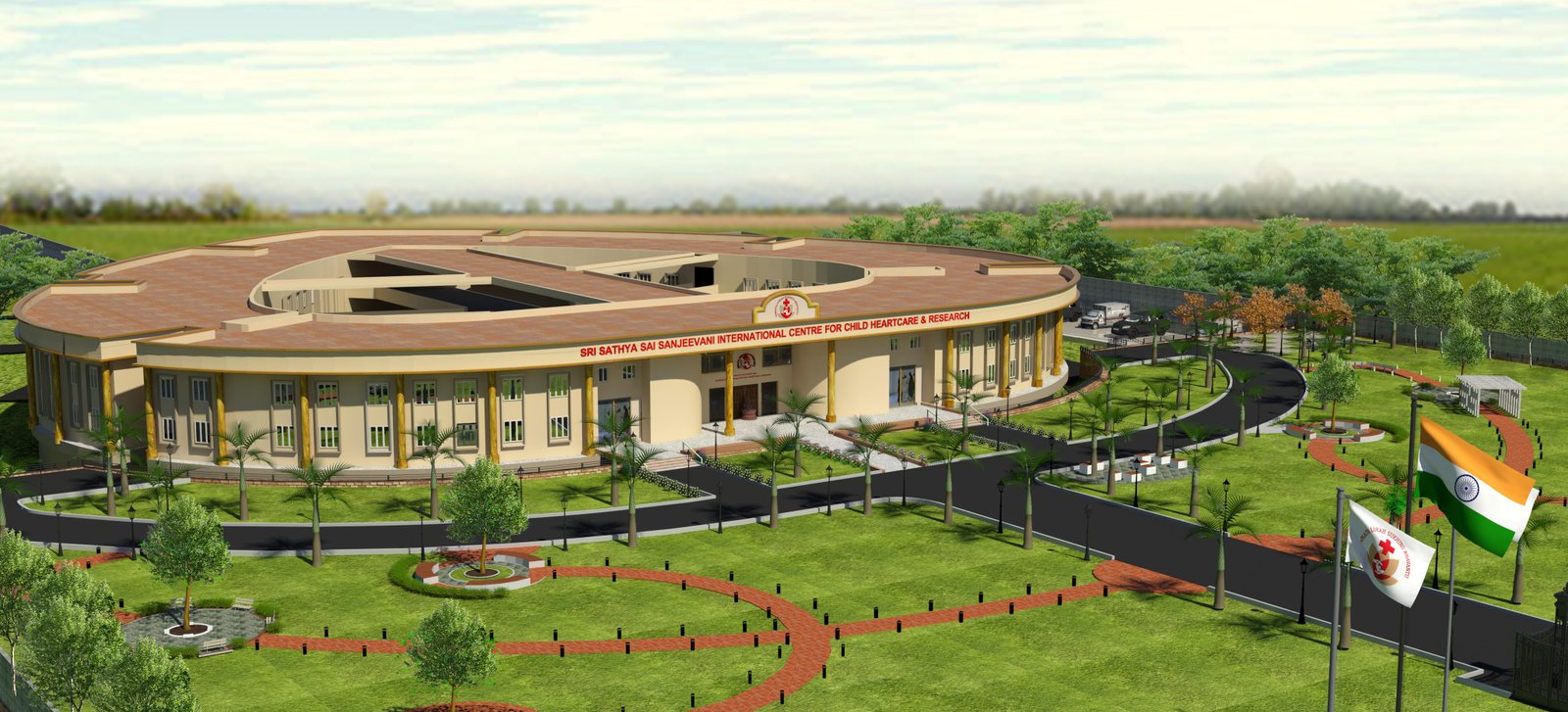 The second of the Sri Sathya Sai Sanjeevani chain of Hospitals established by the Sri Sathya Sai Health and Education Trust was dedicated to the nation by the Prime Minister Sri Narendra Modi on 27th November 2016 amidst quiet fervour at Baghola village in Haryana's Palwal district. The Sri Sathya Sai International Centre for Pediatric Cardiac Care and Research came into to being as yet another temple of healing in the presence of Bhagawan Baba a few days after his 91st birthday celebrations. 
This institution too, dedicated to offering curative care to infants and children with congenital heart diseases, is part of Baba's global health mission to offer quality healthcare to the economically disadvantaged sections of the society. The hospital will invest in mending and healing the hearts of little India as government statistics indicate that 2.5 lakh children are known to be born every year in the country with congenital heart defects or CHDs. Like every offering bearing the name of Sri Sathya Sai Baba, this cardiac care centre shall abide by the four founding principles of Medicine for all without any discrimination, Medicine offered free of cost, Medicine with compassion and loving care and Medical care for spiritual well-being.  
Since these hospitals are not just centres of surgery but centres of spiritual well being as well, the Sanjeevani hospitals will also be symbolic in expanding the human heart to care with for their brethren with love and compassion.
As C Sreenivas, Chairman of the Sri Sathya Sai Health and Education Trust  outlined the genesis of the Sanjeevani chain of hospitals avowing that his life to the cause of Baba's healthcare mission. As the Chairman's address drew to a close, another ocher presence, Pujya Sri Swami Chidananda Saraswati, President of the Paramath Niketan Ashram at Rishikesh took the dais speaking of his prior association with Bhagawan Baba. He was in praise of the healthcare revolution started by Baba and elaborated on how this movement was also leading to a spiritual transformation for all those who are serving and being served at these institutions. The same line of thought was shared by Sri BN Narasimha Murthy who spoke on the ethos of the Sri Sathya Sai healthcare system that is defined by holistic care for all free from any religious, class based discrimination. He outlined how several other projects in the fields of education, water and health care shall soon bear fruit with the blessings and guidance of Baba. 
The guests on the dais were then joined by Sri Krishan Pal Gurjar, Minister of State for Social Justice and Empowerment who addressed the gathering offering his salutations and gratitude to Baba for choosing his state of Haryana (he represents Haryana's Faridabad constituency in the Parliament) for this centre of healing. 
The penultimate speaker then was none other than the Honourable Prime Minister of India Sri Narendra Modi. In his prayerful yet eloquent speech, he underscored the importance of quality health care institutions such as the Sanjeevanis. He said the demand for such hospitals are on a rise because of the unfortunate increase in congenital hearts defects in India's young. What struck a chord with the audience who he addressed through a video conference transmission is his understanding and portrayal of the Sri Sathya Sai Health care institutions. He attributed the success of Baba's institutions to the other three Ss – Seva, Sacrifice and Spirituality. His commitment to help Baba's mission and support the cause of sound learning and healing held the devotees in rapt attention as he wrapped up his speech acknowledging Baba's presence on the dais and offering himself to Him